Bride received a hero's welcome when he returned home to Beckenham, England. One of his old teachers said it was the school's compulsory swimming classes that saved Bride's life.
In the first place, the public should not blame anybody because more wireless messages about the disaster to the Titanic did not reach shore from the Carpathia. I positively refused to send press dispatches because the bulk of personal messages with touching words of grief was so large. —Harold Bride, New York Times, 19 April 1912
Before Titanic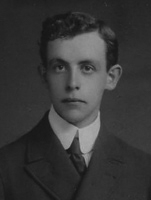 At age of 20, intrigued by wireless telegraphy, Bride annoyed neighbors by building a noisy spark transmitter and erecting a massive antenna in his father's garden. Shortly thereafter, he attended the Marconi training school in Liverpool, where he was awarded a certificate in wireless telegraphy in June 1911.
Bride joined the Marconi International Marine Communications Co. shortly after receiving his certificate. He served on several liners over the next few months, including Cunard Line's Lusitania, before agreeing to join Titanic.
To continue, click the NEXT button on the top of this page.
Comments
comments