Suevic wasn't fast or glamorous, but she was one of the many "working class" liners that quietly got the job done and performed heroically when called to duty.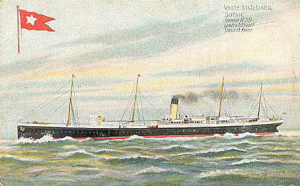 Suevic was launched on 8 December 1900 at Belfast's Harland & Wolff shipyard. Designed to complete White Star Line's Australian fleet, Suevic was 565 feet long, had a 64-foot beam, a 13.5 knot service speed and was listed at 12.4 GRT. Suevic was the fifth and last of the "Jubilee Class" ocean liners, built specifically to service the Liverpool-Capetown-Sydney route. She could carry approximately 400 steerage passengers.
"As in the case of the other vessels of the fleet, her great width has rendered it possible to provide light and roomy cabins, with ample bath and lavatory arrangements. The dining room is capable of seating 400 persons, and there are comfortable reading and smoking rooms. The Suevic will be fitted with refrigerated capacity for 100,000 carcases of mutton, and in addition will be able to carry 20,000 bales of wool. The addition of the Suevic will bring up the total tonnage of the White Star Line engaged in the trades between Great Britain and the colonies Australia and New Zealand to 80,000 tons." — The Times, 10 Dec. 1900.
Shortly after entering service on the Liverpool-Australia run in March 1901, Suevic was requisitioned by the admiralty for service as a troopship in the Boer War.
To continue, click the NEXT button on the top of this page.
Comments
comments