Help Arrives
The lifeboats arrived at the freighter Finnpulp, which had been traveling eight miles ahead of Yarmouth Castle. When Finnpulp's bridge crew noticed on their radar that the cruise ship had slowed, they took a visual look and saw flames erupting from the ship.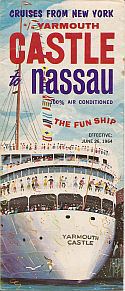 Capt. John Lehto immediately ordered his vessel turned around and headed at full speed toward Yarmouth Castle.  He pulled Finnpulp alongside the stricken ship and began evacuating passengers onto his vessel. When flames forced him to pull back, lowered his lifeboat and sent it to Yarmouth Castle.
When the first of Yarmouth Castle's own lifeboats arrived with its captain, crew members   and only four passengers on board, Lehto became enraged. He boarded the four passengers, but ordered Voutsinas, 35, and his crew back to their ship to assist in the rescue of her passengers.  Had not two other rescue ships not arrived on the scene almost immediately, it's likely that Yarmouth Castle's survivors would have been 99 percent crew.
The Yarmouth Castle disaster led to the creation of the Safety of Life at Sea law (SOLAS) in 1966.
Video Link: Gordon Lightfoot, best known for "The Wreck of the Edmund Fitzgerald," also wrote a song about Yarmouth Castle, "The Ballad Of The Yarmouth Castle."
To continue, click the NEXT button on the top of this page.
Comments
comments