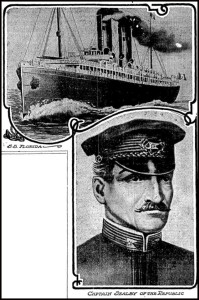 The collision tore a hole into Republic that extended below the waterline. Two people on board the wounded White Star liner were killed instantly; two others were badly injured. On Florida, crewmembers on the liner's mangled bow were killed. Altogether seven people died.
Binns' wireless signal was detected and relayed by the nearby Nantucket Island wireless station. US Revenue Cutter Gresham picked up the message from Nantucket and immediately headed to the collision site to help rescue the survivors. Other vessels soon followed, leading to a full-scale rescue effort.
Republic eventually sank. Florida, although heavily damaged, survived.
Binns returned to New York an instant hero, thanks to newspaper reports about his critical role in the rescue effort. Binns' fame was so great that it even earned him an invitation to perform on the vaudeville stage. (Today, he probably would be offered his own TV reality series, or perhaps an invitation to appear on Big Brother.) Binns, however, graciously declined the offer. He modestly stated, "I'm no tin god; the stage is no place for me."
Binns was, nonetheless, rewarded with a ticker-tape parade on Broadway and numerous other honors.
Listen to the Stirring Jack Binns Tribute Song!
To continue, click the NEXT button on the top of this page.
Comments
comments