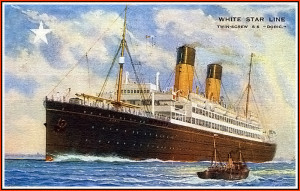 Until 5 September 1935, White Star Line's Doric (1923) led a steady, generally uneventful life as the top liner on the company's Liverpool-Quebec-Montreal service.
On that day, Doric collided with the French cargo vessel Formigny of the Chargeurs Reunis Line off Cape Finisterre, a rocky peninsula on the western coast Spain.
After emergency repairs at Vigo, Spain, Doric limped back to England where managers of a financially struggling Cunard-White Star Line, already facing surplus liner capacity, determined her damage to be irreparable. She was scrapped in November 1935 at Cashmores shipbreaker's yard in Newport, Monmouthshire, less than 12-and-a-half years after entering service.
To continue, click the NEXT button on the top of this page.
Comments
comments