The Atlantic rampage of the former Norddeutscher Lloyd liner Kaiser Wilhelm der Grosse ended suddenly on 26 August 1914 when she encountered the Royal Navy cruiser HMS Highflyer.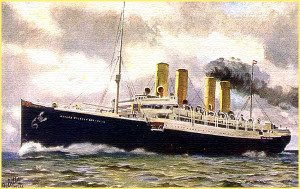 As World War I began, Kaiser Wilhelm der Grosse was requisitioned by the German Imperial Navy and speedily converted into an armed cruiser, painted gray and black. Within days, the ex-liner, commanded by Capt. Max Reymann, began patrolling the seas in search of enemy targets.
In almost no time, Kaiser Wilhelm der Gross used her cannons to sink three ships, Tubal Cain, Kaipara and Nyanza (but only after first ensuring that the occupants were safely transferred to the attacking vessel).
Shortly thereafter, Kaiser Wilhelm der Grosse encountered two passenger liners:  Galician (Union Castle Line) and Arlanza (Royal Mail Lines). In a remarkable act of gallantry Reymann decided to let the ships continue on their way after discovering that there were many women and children on board.
To continue, click the NEXT button on the top of this page.
Comments
comments