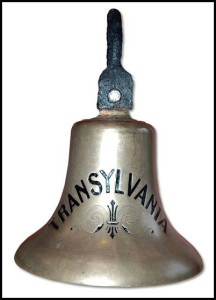 In 1935, Transylvania began running annual summer cruises to Bermuda and the Caribbean. On 18 August 1939 she began what would become her final transatlantic roundtrip, Glasgow – Molville – New York – Molville – Glasgow. On 7 September 1939, just days after the start of World War II, she was requisitioned by the Admiralty, refitted as an armed merchant cruiser, and attached to the 10th Cruiser squadron.
On 10 August 1940, Transylvania was torpedoed by U-56, about 40 miles northwest of Malin Head, County Donegal, Northern Ireland. She was the left behind because the Germans had run out of torpedoes. Although taken in tow, Transylvania sank. While 48 lives were lost in the attack, approximately 300 officers and ratings were rescued. The Transylvania wreck is currently a popular dive site.
To continue, click the NEXT button on the top of this page.
Comments
comments