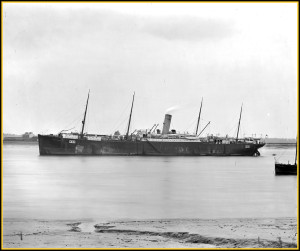 As Canadian Pacific Line's Montrose (1897) arrived at Pointe-au-Père (Father Point), Quebec, on 31 July 1910, Inspector Walter Dew of Scotland Yard boarded the liner with the pilot to take Dr. Hawley Crippen and his companion, Ethel LeNeve, into custody as suspects in the murder of Crippen's wife.
Crippen was the first criminal to be caught via wireless telegraph. He had boarded Montrose on 20 July to escape the manhunt underway for him in England.
A homeopath, Crippen was accused of poisoning and dismembering his wife, a showgirl named Cora (a.k.a. Belle Elmore), then stuffing her body in the basement. Crippen and Le Neve, his mistress, attempted to reach Canada disguised as a father and his son. It was a cunning plan that didn't quite work out.
To continue, click the NEXT button on the top of this page.
Comments
comments