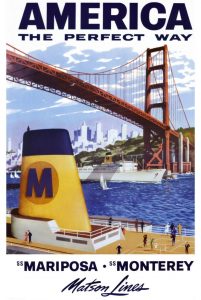 Mariposa traveled the Pacific, primarily on a San Francisco-Honolulu route, until 1971, when she was sold to Pacific Far East Lines, which sailed the vessel on Pacific cruises. By 1973, Mariposa was one of the last US-flagged cruise ships (see the 1973 Chicago Tribune article on the next page).
Pacific Far East sold Mariposa to World Airways in 1978, which in 1981, delivered her back to Pacific Far East. In 1983, she was sold to China Ocean Shipping Co., renamed Jin Jiang and returned to sea on a Shanghai-Hong Kong route. Mariposa-Jin Jiang was broken up in India in 1991.
The bomb threat, incidentally, was determined to be a hoax. The ship's departure was delayed by two hours.
To continue, click the NEXT button on the top of this page.
Comments
comments