Laurentic joined the newly merged Cunard White Star Line fleet on 10 May 1934 and continued on her Liverpool-Montreal route. On 13 July 1935 Laurentic was assigned to summer cruises. Passengers during the Great Depression could take one of her relaxing voyages for as little as £1 per day. Even with such extremely low fares, White Star wasn't able to keep Laurentic and her fleet mates in fully booked.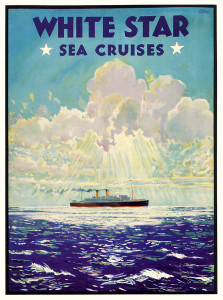 On 18 August 1935 Laurentic left Liverpool carrying 600 passengers on a Baltic cruise. While sailing that night off the Skerries in the Irish Sea, she was struck by Blue Star Line's Napier Star. Six Laurentic crew members were killed (see the video above).
Laurentic made a trooping voyage to Palestine on 14 September 1936.  In January 1937 she was laid up in Southampton. In September 1939, at the outbreak of World War II, Laurentic  was converted into an armed merchant cruiser equipped with seven 5.5-inch and three 4.0-inch anti-aircraft guns.
On 29 November 1939 Laurentic intercepted HAPAG's Antiochia near Iceland. Antiochia's crew scuttled the ship, built in 1921. As the vessel sank, Laurentic's crew turned their own guns on the HAPAG ship for a little impromptu target practice.
On 3 November 1940 Laurentic was torpedoed three times and sunk off the Donegal coast by U-99. Forty-nine lives were lost, but 367 were saved.
And Laurentic's unique distinction? She was the last White Star liner to sink.
To continue, click the NEXT button on the top of this page.
Comments
comments