Symphony of the Seas was floated out of dry dock at STX France on Friday 9 June (today's mega-vessels are too large to launch).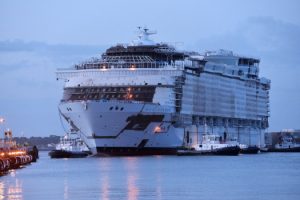 When she joins the Royal Caribbean fleet next April, Symphony of the Seas will hold the title of "world's largest cruise ship," offering 28 more staterooms than her newest sister ship, Harmony of the Seas, and encompassing 230,000 gross registered tons, 3,000 more than Harmony of the Seas.
Whether or not you are a fan of massive cruise ships, Symphony of the Seas is certainly a very impressive example of marine engineering. She is as remarkable today as the great ocean liners were in their time.
Symphony of the Seas probably won't hold the record as largest cruise ship for very long. There are even larger vessels on the way.
To continue, click the NEXT button on the top of this page.
Comments
comments