The British liner Athenia was torpedoed and sunk on 3 September 1939.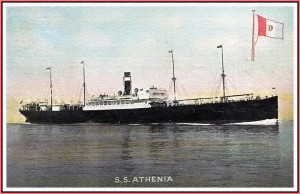 Two days earlier, German troops had crossed the border into Poland. Notes of protest were followed by ultimatums from both Britain and France. With no response from Germany within the allotted time, by noon on 3 September Britain was at war.
The first casualties at sea came that evening. The 13,580-GRT Donaldson liner Athenia was bound from Liverpool to Montreal with 1,103 passengers on board, mostly people hoping to escape the hostilities. About 200 miles west of the Hebrides, Athenia was torpedoed without warning. The action was in violation of international agreements specifying that unarmed passenger vessels were not to be harmed.
To continue, click the NEXT button on the top of this page.
Comments
comments