On 12 August 1974, Caribia, the liner formerly known as Caronia (1948), was fatally wrecked outside of Apra, Guam.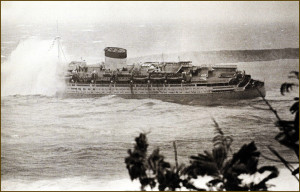 The ex-Green Goddess, long neglected and abused, was being towed by an ocean tug from New York to a Taiwan scrapyard. Encountering a typhoon that threatened to sink both vessels, shelter was sought at Guam. The result was disastrous.
While entering the harbor, high winds and a rising tide pushed Caribia onto the breakwater. Sitting helpless, she was lashed by the storm. The ceaseless buffeting caused Caribia to split into three pieces and partially sink.
To continue, click the NEXT button on the top of this page.
Comments
comments