On 30 June 1900 one of the worst disasters in New York Harbor history occurred when Norddeutscher Lloyd's aging, wooden Hoboken pier burned down catastrophically. Four NDL ocean liners were docked in Hoboken at the time: Saale, Bremen (1897), Main, and the line's flagship, Kaiser Wilhelm der Grosse, then the world's largest passenger ship.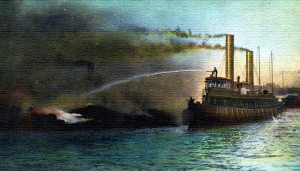 A watchman spotted the fire at just before 4 p.m. A combination of strong winds and sheds packed with volatile liquids and cotton bales allowed the blaze to spread rapidly. Before Hoboken fire units could respond to the scene, the docked Saale caught fire and drifted out into the Hudson River. Many on the ship did not know how to swim and drowned after leaping overboard.
Bremen was next to catch fire. Fortunately, a nearby tugboat was able to rescue more than 100 crew and visitors from the vessel. On Kaiser Wilhelm der Grosse, the then-current Blue Riband holder, the captain kept the crew from panicking, allowing everyone to get off safely. Tugboats then pulled the great liner to the Manhattan side of the Hudson, away from the danger. The ship suffered some fire damage, but survived.
To continue, click the NEXT button on the top of this page.
Comments
comments